As a small business owner, you know how important it is to rank well in search engines like Google and Bing. You want to ensure that your brand name appears high on the search results list when people look for similar products and services.
This is where Search Engine Optimization (SEO) comes into play. If you don't take advantage of SEO now, you could miss out on potential customers later. A Salesforce study found that 87% of shoppers research new products and services online, with 9 out of 10 using a search engine.
In this blog post, I'll discuss the benefits of SEO for small businesses. I'll also provide tips on how you can start implementing SEO tactics into your marketing plans.
Table of Content
What is SEO?
Search Engine Optimization is the process of making your website more visible in a search engine's "natural," "organic," or "earned" results. They are natural because search engine results pages (SERPs) rank your content based on its relevance and usefulness. According to Backlingo founder Brian Dean, Google uses a complex formula of over 200 ranking factors to rank websites.
How Does SEO Work?
When you first hear about SEO, you might think it's a simple concept; however, there are many distinct approaches to implementing SEO. So how exactly does SEO work?
There are two main components to SEO: on-page optimization and off-page optimization. On-page optimization includes meta tags, title tags, content, keywords, images, and more.
Off-page optimization includes social media sites, blogs, forums, directories, press releases, and more. Off-page optimization is essential because it helps with your ranking in search engines.
Does SEO Work for Small Businesses?
Small businesses have a lot to gain from SEO. You should consider it a necessity rather than an option. Small businesses often lack the resources to invest in traditional marketing methods like TV ads or billboards. But SEO can be one of the cheapest and most effective ways to reach new customers, boost sales, and grow your online presence.
The Benefits of SEO for Small Businesses
For small businesses, SEO can be a game-changer. SEO is a great way to get your business noticed. It's also an effective marketing tool that can help you reach more customers and increase sales. However, it's not just about getting found on Google. There are many other benefits to using SEO as part of your overall marketing strategy. Here are some of the most important ones:
1. Increased Traffic
Traffic is the lifeblood of any business. If no one visits your website, you have no one to sell to. Hence, search visibility is critical for small businesses.
According to Brightedge research, 53.3% of all web traffic comes from organic search. Furthermore, 60% of marketers say that SEO-engaged customers are their best source of high-quality leads.
Why is that?
Because people are looking for solutions, and because you're one of the top results when they search, you fulfill their needs by offering them answers.
Ranking on the first page of Google is significant for businesses. A recent study found that half of all clicks go to the top three organic search results. While up to a third of all results on Page 1 and 2 are never even looked at.
Being number one on the search engine rankings can almost double your click-through rate over the number two spot. Also, claiming the Featured Snippet or 'position zero' increases your click-through rates as it puts you above the top-ranked search result. According to Moz, the average CTR for a Featured Snippet is 3x higher than the average CTR for organic listings.
2. Market to Target Audience with SEO
SEO can be beneficial if you are looking to market to a target audience. It helps you to get more targeted organic search traffic to your website. This means that if you want to market to people who live in a particular area or have a specific interest, then this is where SEO can help you.
There are three different types of SEO marketing that you can use. They're called Onsite Search Marketing, Offsite Search Marketing, and Content Marketing. These three strategies can help you attract qualified leads to your site.
Onsite Search Marketing: This type of SEO focuses on getting visitors to your website. You optimize your URLs and add keywords and metadata to your content.
Offsite Search Marketing: Most people think of this when they hear "search marketing." It involves building your brand online, including social media profiles, blogs, articles, etc.
Content Marketing: This is where you focus on creating great content that helps prospects solve problems and learn how to improve their businesses.
Each of these three strategies aims to get people to find you. You'll need to implement all three to attract relevant traffic to your website.
3. Improves Brand Awareness
For small businesses, brand awareness is essential. But how can you ensure that your business stands out from many competing brands? Ranking high in the SERP results is one way to increase your brand awareness.
Even if no one clicks on your website, potential clients will associate your business with those solutions simply by being there. Furthermore, people are more likely to trust your company if it appears on the first result pages when looking for a specific keyword.
4. SEO Can Build Trust and Credibility
Search engines like Google want to provide relevant content to users. They are looking for ways to improve their algorithms and understand people's search intent. They want to ensure people don't waste time searching and clicking around.
To do this, they use a variety of factors to rank sites based on users' search terms. They're able to rank websites based on their relevance and authority.
Creating relevant, helpful, and engaging articles around your offerings can increase your audience's exposure to them. As your search visibility increases, so will your audience's exposure to your content. If users find helpful content on your website, they'll start to think of you as an expert in your field.
Ranking well on Google shows people that you're a reputable source. If users visit your site and find helpful content, they'll think of you as a trustworthy source.
It will also help your site get backlinks from other high-quality websites. As you gain expertise on your chosen topic, other websites may link to your content. These links will help increase your site's Domain Authority (DA). The more "links" you have pointing to your site, the better your domain authority and rank for specific keywords are.
5. Increase Your Chance of Conversion
Research shows that having an effective SEO strategy can increase your conversion rates by up to 15%. Optimizing your website for search engines like Google and Bing can help increase conversion rates.
An SEO website loads quicker, is easier to use, and displays correctly on various devices, including smartphones and tablets. Easy-to-read and navigate websites provide a better user experience and are more likely to capture and hold the reader's attention. You'll gain repeat visitors, subscribers, and eventually loyal customers. If your company's website is not mobile-friendly, you risk losing many clients due to negative user experiences.
With increasing mobile usage, local searches have become increasingly relevant for small and medium-sized businesses.
By focusing on local search engine optimization, you can increase the visibility of your online content in a specific region. This brings potential customers one step closer to making a purchase. For local businesses, this is especially significant because 88% of consumers who do a localized search either physically go to the store or contact it by phone the same day.
6. SEO Enables You to Understand User Needs and Wants
Keywords are vital in helping search engines understand what type of content a user wants. This is why it's essential to know the different types of user intent and focus on optimizing your site accordingly.
What happens when you combine SEO with analytics? You gain insight into your customers' needs and wants. It helps you create content that resonates with your target audience and shows how well your marketing efforts work.
Google Analytics is probably the most popular web analytics solution today. It collects user data using complex algorithms and machine learning to give relevant results. It provides detailed data about visitors to your site, including where they came from and which pages they viewed. It even includes things such as location, device, language, and demographics.
It can also provide valuable insights into how customers behave. For example, you can see whether certain days of the week are better for traffic than others. Or you can find out which months of the year increase sales. This allows you to fine-tune your marketing strategies accordingly.
For instance, you might want to focus more on your social media campaigns during the summer holidays. Or maybe you could increase your ad spend during the winter holidays.
Or perhaps you want to target your ads towards specific regions, cities, or countries. You can do just about anything with this data.
7. SEO Is Quantifiable and Cost-Effective
Did you know that inbound lead generation costs 61% less than outbound? That's because Inbound marketing strategies are the most effective way for B2B and B2C companies to generate qualified leads.
While many think SEO requires a lot of money, the truth is that it pays for itself (if not more) in the long run. Plus, there are ways to do it without breaking the bank. If you're willing to invest some time into learning how to optimize your site, you'll be able to see results quickly.
While it might seem daunting, it doesn't have to be. There are many free tools to help you along the way. Some of the most popular ones include Screaming Frog, MozBar, Serpstat, and Majestic. These programs allow you to crawl your site and analyze what needs fixing. From there, you can use those insights to make changes to improve your rankings.
If you want to know what works best for your business, it helps to understand how each metric relates to one another. There are three main categories of metrics: quantitative, qualitative, and behavioral.
Quantitative metrics include traffic, conversions, bounce rates, and average session duration. Qualitative metrics include customer satisfaction, brand awareness, and social media sentiment. Metrics based on consumer behavior include the proportion of abandoned shopping carts and previous purchases.
You can better understand your customers' needs and preferences by combining the data points across all three metrics. You'll also be able to see trends over time and identify areas where you could potentially optimize your site for greater conversion.
8. SEO Can Be a Long-Term Marketing Strategy
As mentioned earlier, SEO is an ongoing process. It doesn't happen overnight. But once you get started, you'll notice a steady increase in organic traffic to your website.
As a small business owner, it's easy to think about short-term marketing tactics like paid ads or social media posts. But long-term SEO strategies are just as important — and sometimes even more so. To ensure your brand stays relevant online, you'll need to invest time and effort into building a strong web presence on search engines.
Five SEO Tips You Can Use Right Now
If you are looking for ways to improve your website's visibility in search engines, here are five quick tips for improving your online marketing strategy.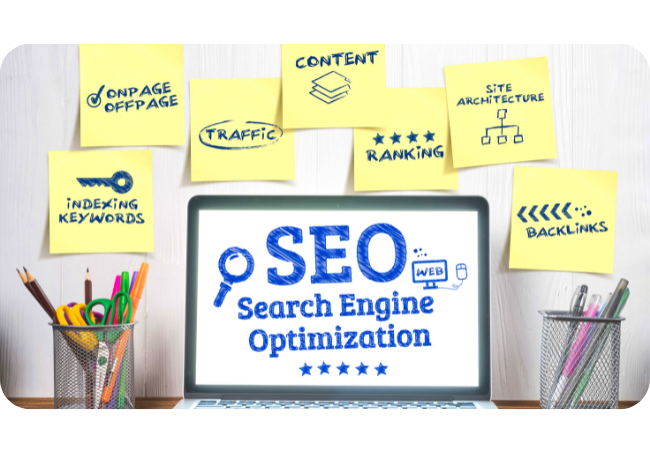 1. Keyword Research
The essential step to getting traffic to your site is keyword research. This means finding the search query terms people use online and determining if your product or service fits that niche. Once you find the relevant keywords, use SEMRush, Ahrefs, and Keywords Everywhere to discover which ones generate the highest ROI.
If you don't know where to start, try a quick web search for your industry. Just how much information is readily available could surprise you.
2. Content Creation
Once you've identified keywords, it's time to write content around those terms. Remember, the goal here isn't to fill up your blog with words; instead, you want to provide helpful information that people are looking for. Regarding writing, you could hire someone else to do it for you (cough*cough), or you can learn how to write great content yourself. Many resources online, like Hubspot Academy or AWAI, can teach you everything you need to know. You also use software like Frase.io or Surfer SEO to help with content optimization.
Schema markup helps search engines understand what your content is about. By adding schema markup to your web pages, you can tell Google exactly what each piece of content is about. to get started with SEO.
3. Optimizing Site Structure
After creating quality content, it's essential to optimize your site structure. This means ensuring that all your pages are accessible and easy to find.
For example, if your site sells products, you could divide them into categories based on product type. Then, each category could contain subcategories. Finally, each subcategory could include individual items.
By breaking down your site into manageable pieces, you give visitors something to navigate through easily. Plus, search engines tend to favor sites with clear navigation systems over those without.
4. Don't Forget About Backlinks
Backlinks are links pointing back to your site. They help Google determine whether your site is trustworthy and helpful to visitors. You can generate backlinks naturally by sharing quality content on other sites. But there are ways to artificially boost your backlink count, like guest posting, press releases, and blog comments.
5. Make Sure Your Site Is Mobile Friendly
If you don't already have a responsive design, now might be a good time to start working on one. Responsive designs let your site automatically change to fit different screen sizes. This makes it easier for people to read your content, no matter their device. This makes it easy for customers to find your products and services, especially when 50% of web traffic is mobile.
Get the SEO Checklist for Small Businesses
FAQs
Does your business need SEO?
It depends. If you're not ranking in the top three results for any search term, then yes, you should consider hiring an SEO expert. Suppose you're ranking well, but no one is clicking on your links. In that case, you may also benefit from some optimization work. However, if you're already ranking well and people visit your website regularly, you probably don't need SEO. 
How long does it take to rank well?
SEO takes time. It doesn't happen overnight. It depends on many factors, but generally speaking, it takes anywhere from 6 – 12 months to see significant rankings improvements.
However, in reality, you'll start to see activity much earlier than that, sometimes even within a week or two of execution. Even if your ranking improves after a few weeks, it may not immediately lead to traffic or sales. This means that Google is slowly starting to understand and compare your website's quality and performance to your competitors.
Is SEO worth the investment?
Absolutely! The benefits of SEO far outweigh the costs. If you are not ranking for your keywords, it's costing you money in lost sales and traffic.
What's the best way to track the effectiveness of your SEO efforts?
The best way to measure the effectiveness of your SEO effort is to use Google Analytics. This tool lets you see how people are finding your website. You can see where they are coming from, like search engines, social media, or email campaigns. You can then use this information to determine which channels are working well for you and which ones need improvement.
Ready to Get Started With SEO?
Search engine optimization is a powerful tool that can help you improve your website's visibility online. The key to success is finding the right balance between SEO and creating content readers care about. However, it takes a bit of effort to set up and maintain, which means that you won't be able to reap the rewards right away. If you keep working hard and staying focused, you'll eventually reach your goal of becoming a top-ranking authority in your niche.
At the end of the day, if you want to build a successful blog or website, the benefits of SEO outweigh its costs and implementation process!
Contact me today to discuss how I can help write SEO content for you that will boost your online visibility and drive traffic to your website.